400 Pinion Bluff Drive Bella Vista, Arkansas 72714 479 . 876 . 5343

400 Pinion Bluff Drive Bella Vista, Arkansas 72714 479 . 876 . 5343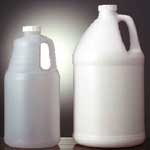 PLASTIC BOTTLES
Lids can be left on
Plastic containers come in many shaped and sized, but we accept ONLY those in the form of BOTTLES or JUGS. The neck is smaller than the body of the container. Check in the number in the triangle at the bottom of the container. Only bottles and jugs with #1 and #2 are acceptable. Discard bottles and jugs with no number or a number higher than #2. Separate and place into the proper marked receptacle.
#1. SODA and WATER bottles. They are transparent. Most are light green, blue or colorless. No red, brown or black-they have too much dye.
#2. Natural MILK JUGS or other jugs the same natural color. It looks like frosted glass. Bottles and jugs are translucent; you can see the level of the contents.
#2. COLORED, OPAQUE bottles. Many household items, as detergents, shampoos, bleaches and some vitamin bottles. The surface is not shiny.